About Dr. Blackledge
Dr. Aaron Blackledge is board-certified in Family Medicine and completed the Dartmouth-Brown Medical program in 2001. He is a leading innovator in the direct practice of medicine movement founding Care Practice in late 2008 with zero patients, one doctor, and a single staff person.
He took an innovative approach in crafting a neighborhood based transparent pricing strategy in a fee for service model and launched it almost exclusively through social media platforms. With most doctors giving up private practice, most thought his concept was unlikely to succeed and would struggle to be financially viable. Eight years later, they have seen over 20,000 unique patients and led a revolution in how care is modeled around the country.
Dr. Blackledge has a rare combination of skill sets. He is a practicing physician who thinks like a technologist and has the background and training of an artist. He graduated from art school at Sarah Lawrence College with a degree in Modern Dance and Spanish. That combination has led him to thrive by being creative and forward thinking while working in several different areas. He is the Chief Medical Affairs Officer at StudyOps who he partners with to do large clinical trials at Care Practice. He is the founder of the health tech company Orchestra One which just launched its product.
He consults for numerous other technology companies in crafting innovative approaches to practice management, doctor-patient communication, and patient education applications. He molded Care Practice into a leading incubator for new technologies and a beta facility to prototype new products.
On the side, he is a frequent speaker and panelist at conferences around the country, as well as private events. His talks highlight innovation in health care, the use of technology, and marketing through social media. He has been called the "Start-Up Doctor" by Inc Magazine" and been featured on NPR's Tech Nation.
Read more about Dr. Blackledge's inspiration for his approach to medicine here and the people who made this website possible here.
From the beginning, Care Practice has been a sort of a ruse to get people to come here and teach me about medicine.
Personal Interests
In his free time, Dr. Blackledge enjoys shopping in the organic supermarket aisle looking for less-fun, nature-colored versions of traditional childhood cereals.
He lives in San Francisco and enjoys live music and cool ideas.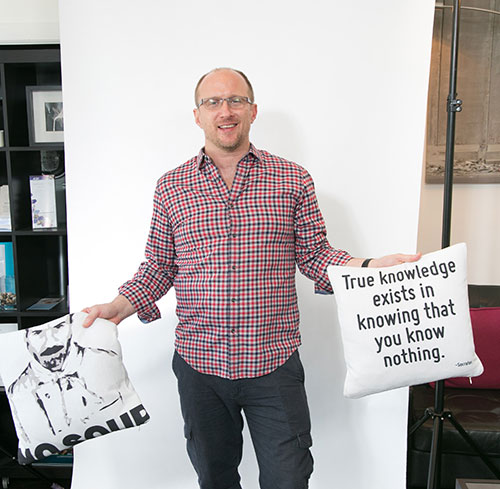 Dr. Blackledge offers a full suite of Medical services
What People Are saying About Dr. Blackledge
Dr. Blackledge's bedside manner is exceptional and I got my meds RIGHT THERE - meaning no painful and long pharmacy visit/wait.

Khash C.

Dr. Blackledge is extremely knowledgeable and was able to attack my problems on all fronts --very holistic approach to the root of my issues.

Tony L.

Aaron Blackledge is a genius!

Betsy W.

Best doctor ever!

Muhammad S.
Education and Experience
Dr. Blackledge has had a varied and diverse medical background with experience ranging from working in an HIV-Hepatitis C clinic in a Rhode Island prison to a large suburban Urgent Care setting seeing up to 60 patients per day. After finishing his residency, he helped open and served as Medical Director at the Chanate Community Health Center in Santa Rosa, CA where he focused on caring for Sonoma County's large underserved Medi-Cal population. He went on to work in both large and small Emergency Rooms in the North Bay, before moving to the city to join San Francisco On Call Medical Group in 2006 (later known as Current Health and now Discover Health). In 2008, he launched Care Practice and has served as its Medical Director ever since.
Undergraduate

Sarah Lawrence College

Modern Dance and Spanish

2001

Medical School

Dartmouth-Brown Medical School

Internship

Sutter Medical Center Of Santa Rosa-Chanate Campus

Residency

Sutter Medical Center Of Santa Rosa-Chanate Campus
Care Practice
508 A 14th Street
San Francisco, CA 94013
Monday 9:30am – 6pm
Wednesday 9:30am – 6pm
Friday 9:30am – 6pm
Saturday 10:30am – 2pm